What is MediYoga clinic?
MediYoga Clinic provides relief and cure from both acute and chronic pain, where the body returns to proper alignment, function and balance.

It involves the use of scientifically proven restorative Yoga postures with or without props along with mindful breath work.
What does it offer ?
Where conventional science falters, MediYoga comes in to gently and non- invasively provide complete pain relief and cure. The speciality of this clinic is the successful integration of Western Medicine and evidence based Yoga in treating patients.
Yoga asanas prescribed at our clinic are scientifically ratified and instituted under the care of doctors.
A Hands-on approach is taken for each and every patient with meticulous screening and monitoring.
Patient education is given its prime place and every patient is educated about their ailment. This leads to better awareness in the patient of their own ailments & its management & cure.
Emotional support & care is given to patients to enable them to confidently overcome their pain and choose the way to a pain-free life.
Surgery-advised patients are spared the trauma and after-effects of going under the knife and are provided long term relief and cure.
Drugs are used only when essential to provide a quick temporary relief.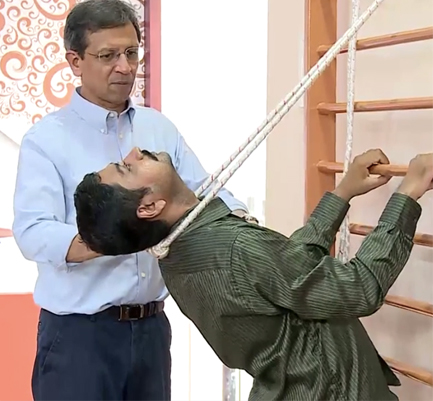 Some of the diseases that are treated at this clinic
include but not limited to :
Low back pain
Disc prolapse
Osteoarthritis
Rheumatoid Arthritis
Carpal Tunnel syndrome
Spondylosis
De Quervain's Disease
Sports injuries
Frozen Shoulder
Tennis elbow
Calcaeneal spur
Plantar fascitis
Migraine
Allergic Rhinitis
Sinusitis
MON - FRI

8:15 AM - 11:30 AM
2:00 PM - 5:30 PM
SAT

8:30 AM - 11:30 AM
@Indira Nagar, Adyar.


Appointments


8148126675